World news
Pro-Hamas protests have European politicians worried as US watches closely
Sympathy for Hamas's war against Israel has been witnessed in some quarters on the streets of Europe and in certain U.S. cities, sparking new debates over what critics have called misguided multiculturalism, failed integration, underfunded police forces and unchecked immigration.
The U.S. and E.U.-designated terrorist movement, Hamas, carried out a massacre of at least 1,400 people in southern Israel on Oct. 7 and kidnapped more than 200 people, including Americans.
Outbreaks of alleged antisemitism targeting Israel unfolded among some pro-Palestinian protesters in London and in Brooklyn, New York, on Saturday as demonstrators chanted the controversial slogan "From the river to the sea, Palestine will be free."
An estimated 100,000 demonstrators turned out in London to align themselves with the Palestinian cause – a section of some seemingly in favor of Hamas, whose stated aims are to eradicate Israel and murder Jews.
'PALESTINE FROM THE RIVER TO THE SEA' MEANS 'EXTERMINATION' OF ISRAEL, EX-COUNTERTERRORISM OFFICIAL WARNS
U.K. Home Secretary Suella Braverman termed the slogan "From the river to the sea, Palestine will be free" as antisemitic, noting that the language is "widely understood to call for the destruction of Israel." Braverman's governmental office is comparable to the U.S. secretary of Homeland Security.
Robert Jenrick, the U.K. immigration minister, took pro-Palestinians to task for chanting "jihad" on the streets of the British capital. He said they are "inciting terrorist violence" by invoking the oft-cited battle cry by radical Islamists.
London's Metropolitan Police said it examined the footage of a man yelling, "Jihad, Jihad," at a demonstration organized by the radical Islamist organization Hizb ut-Tahrir.
At least 13 nations have outlawed the Hizb ut-Tahrir movement, which seeks to establish an Islamic state (also known as a caliphate). American author and journalist Andy Ngo reported on X, formerly Twitter, about protesters at the Hizb ut-Tahrir rally who urged a Muslim holy war against the Jewish state.
According to a statement issued by the Metropolitan Police, "Officers identified the man involved and spoke to him to discourage any repeat of similar chanting."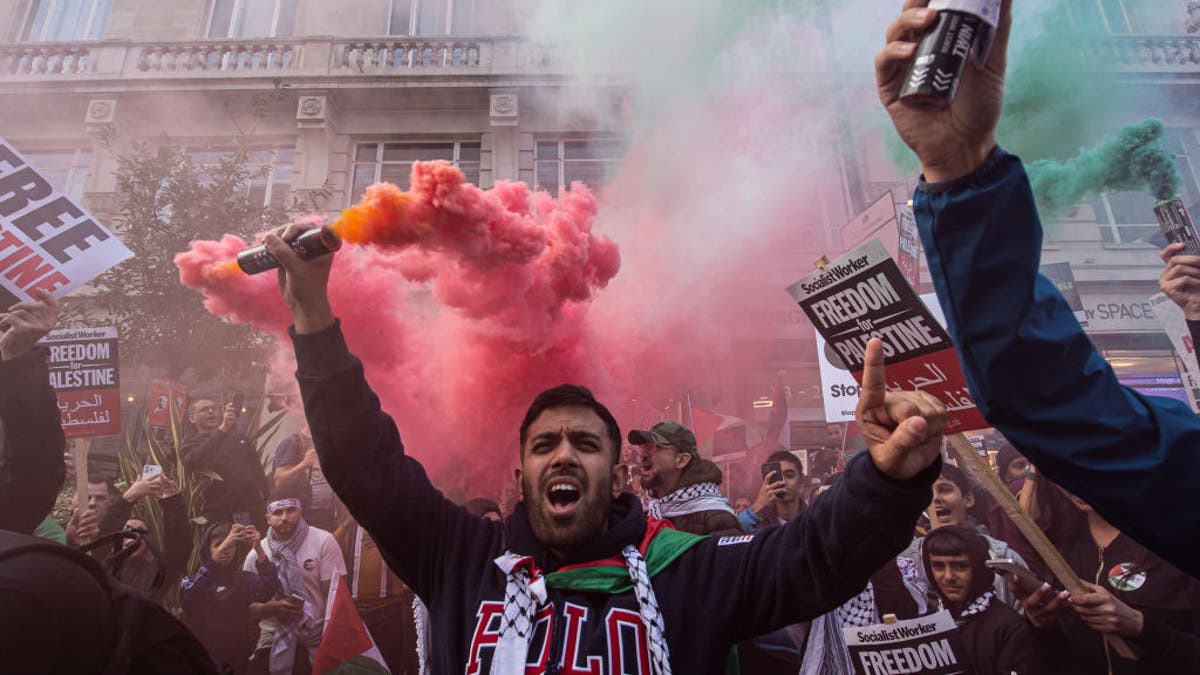 Ghanem Nuseibeh, chair of Muslims against Antisemitism in the United Kingdom, told Fox News Digital, "I think the antisemitism seen within the pro-Palestine protests is utterly and unequivocally condemnable. Authorities must act against antisemitism even if acts are legal, and I don't see enough is being done anywhere in the West to combat antisemitism."
BIDEN SAYS ISRAEL NOT TO BLAME FOR ROCKET ATTACK ON GAZA HOSPITAL THAT LEFT 500 DEAD: 'DONE BY THE OTHER TEAM'
He added, "The existing hate laws aren't fit for purpose when dealing with antisemitism, and authorities across the world, particularly in Europe, need to up their game. Antisemitism should not be seen as free speech but [as] hate speech and must be persecuted to the fullest extent of the law."
Nuseibeh also warned, "Failure of Western authorities to act against antisemitism now will turn into an irreversible and unforgivable flood that threatens Jewish communities across the world."
British Mideast expert Tom Gross told Fox News Digital, "The large protests in Europe, ostensibly in support of Palestinians, often seem to be motivated more by straightforward racism and prejudice against Jews. In Warsaw, Poland, this weekend, for example, a Norwegian medical student resident in the city held up a sign effectively calling for another Holocaust."
He added, "In London, tens of thousands called for the eradication of Israel. Many protesters are from radical Muslim communities of Pakistani and Bangladeshi origin. Others are from the far left. British intelligence believe that Iranian government agents may also have had a hand in stirring things up on European streets."
Gross, who frequently comments on the interplay between Europe and the Middle East, said, "The authorities in the U.K. and elsewhere seem quite frightened to take on this hatred. In Trafalgar Square in central London2, we saw British police telling two people not to display an English flag because it was 'provocative' but at the same time allowing thousands of Palestinian flags to be on display."
In France, which according to a Reuters report is home to Europe's largest Muslim and Jewish communities, President Emmanuel Macron's interior minister has banned some pro-Palestinian protests, noting fears that it could "generate disturbances to public order." Some unauthorized protests have gone ahead in Paris, resulting in some arrests by police.
Germany has been engulfed in pro-Palestinians marches and destruction of Israeli flags. According to the country's most recent domestic intelligence report, there are 450 Hamas operatives and 1,250 Hezbollah members within the territory of the central European country. When asked about the Hamas operatives, Israeli Brig. Gen. Amir Avivi (ret.), told Fox News Digital that Germany should "arrest these people" and "take action against the extremist entity."
STUDENTS HIDE IDENTITIES WITH MASKS WHILE PRAISING HAMAS' MASSACRE OF ISRAELIS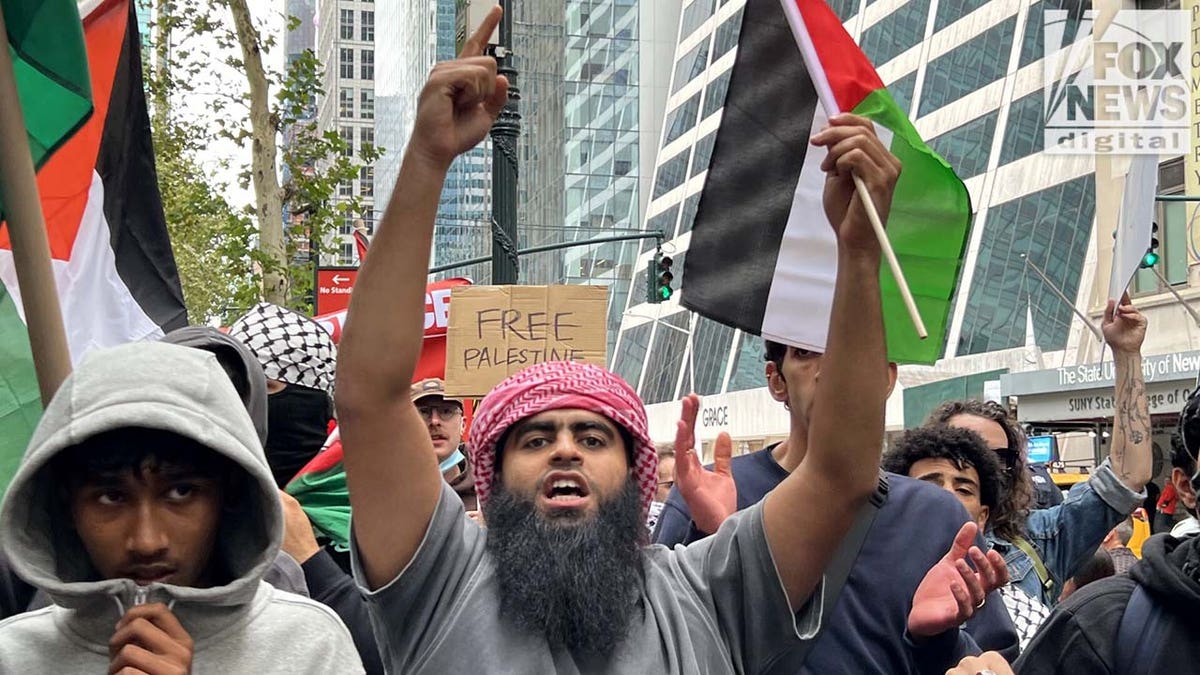 After Avivi warned about the threat of Hamas terrorist attacks in Germany, the federal German interior minister, Nancy Faeser, said, "If we are able to deport Hamas supporters, we must do this." Faeser, from the left-leaning Social Democratic Party, added after last week's ISIS-inspired attack in Brussels, "Our security authorities have currently placed an even stronger focus on the Islamist scene."
An Islamist gunman, who was named as Abdesalem Lassoued in the Belgian media and was Arabic-speaking, murdered two Swedes in the European Union capital. Belgian police killed the gunman.
Concerns over Faeser's failure to zoom in on radical Islam in Germany has been the source of criticism from Christian Democratic Union politicians and a number of journalists over the years. Faeser urged citizens to notify the authorities about "propaganda" in support of Hamas.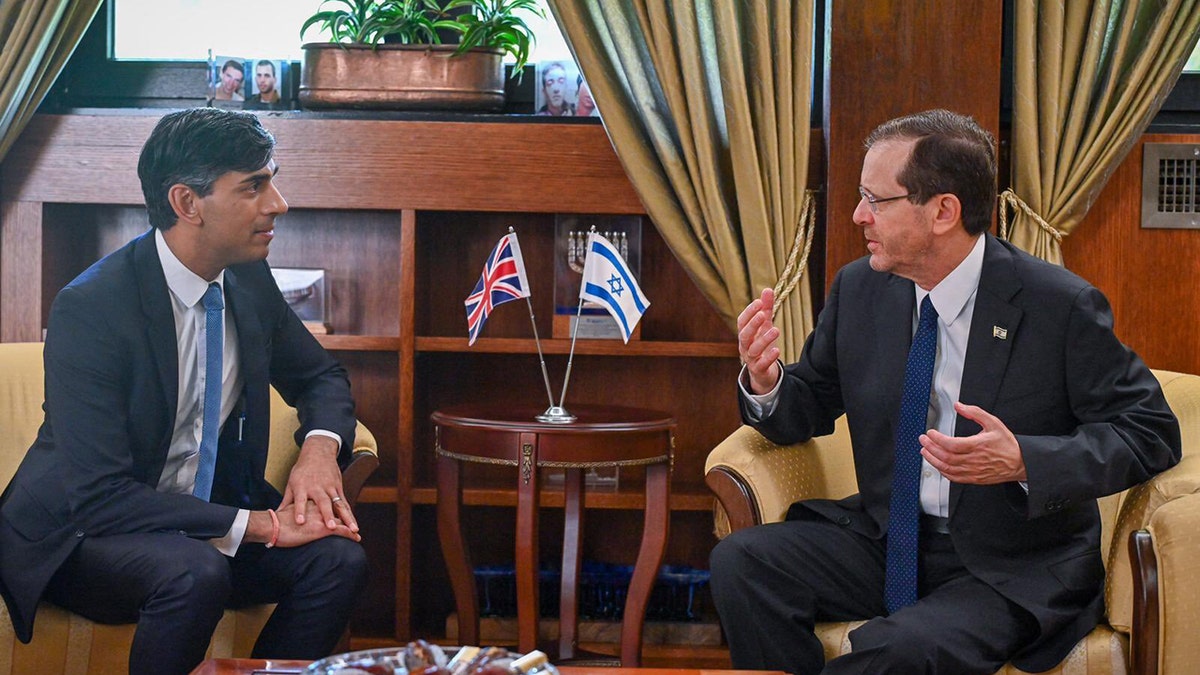 On Friday, prosecutors in Munich searched the house of a 38-year-old German national over an Instagram post that defended Hamas's attack, according to a statement from the prosecutor.
"We will not allow this vile hatred and horrific violence to spread," Faeser told reporters.
The Social Democratic Party Chancellor of Germany, Olaf Scholz, broke verbally with the pro-immigration line of his political party last week by saying that Germany needs to start deporting "on a large scale" migrants who don't have the right to stay in the country, adding to increasingly tough talk on migration since his coalition performed badly in two state elections this month.
While Germany has enacted bans of Hamas and Hezbollah activities, it is unclear why Faeser has declined to crack down on the 450 Hamas and 1,250 Hezbollah operatives. Fox News Digital sent a press query to her spokesperson, Björn Bowinkelmann, who declined to comment.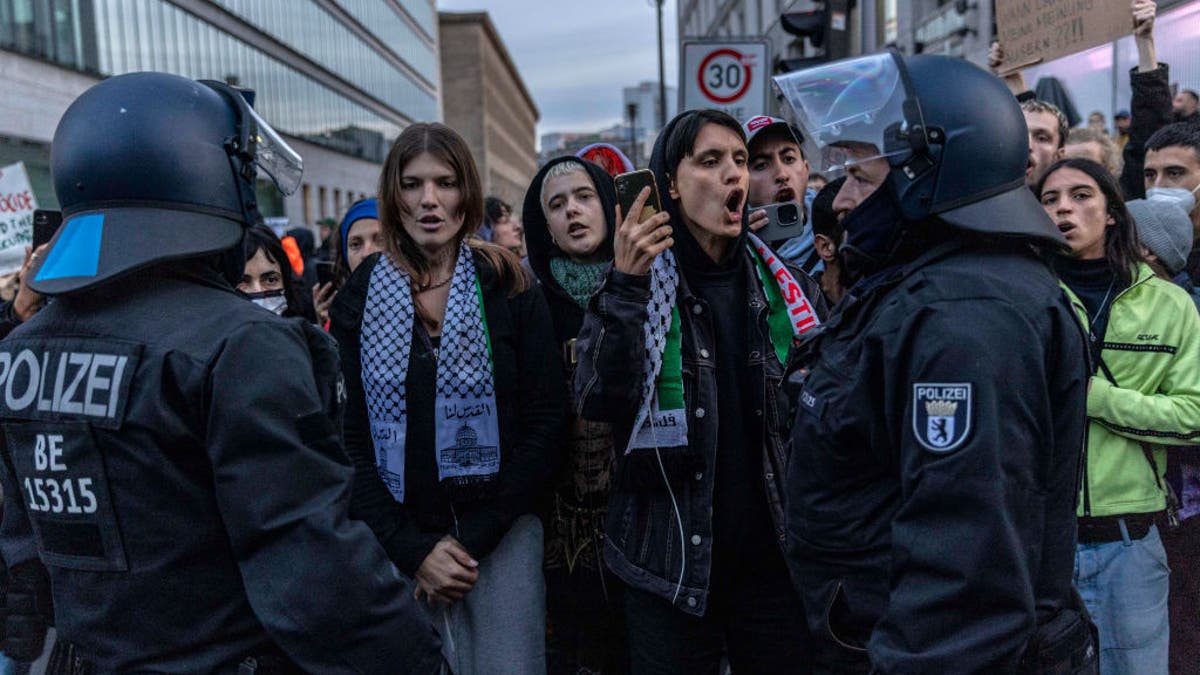 The federal commissioner tasked with fighting antisemitism, Felix Klein, was sharply criticized this year by Rabbi Abraham Cooper, the associate dean of the L.A.-based Simon Wiesenthal Center, for failing to cite Palestinian and Iranian regime antisemitism as a threat in Germany's "National Strategy against Antisemitism and for Jewish Life." Faeser oversees Klein's work. Klein didn't answer numerous Fox News Digital press queries.
The southwestern German city of Stuttgart has been one of the hotspots for pro-Hamas activities, including a large protest on Friday that included some slogans deemed as being antisemitic by some critics.
ISRAEL'S HUNT FOR HAMAS TERROR GROUP LEADER YAHYA SINWAR: 'DEAD MAN WALKING'
Stuttgart's mayor, Frank Nopper, has been under fire this year for failing to pursue aggressive legal and administrative actions to delete a posting on the municipal website for a pro-Palestinian group named Palestine Committee Stuttgart that has been accused of enabling the pro-Hamas entity, Samidoun, on its website. Germany's government outlawed Samidoun days after the Hamas massacre of Israeli citizens on Oct. 7.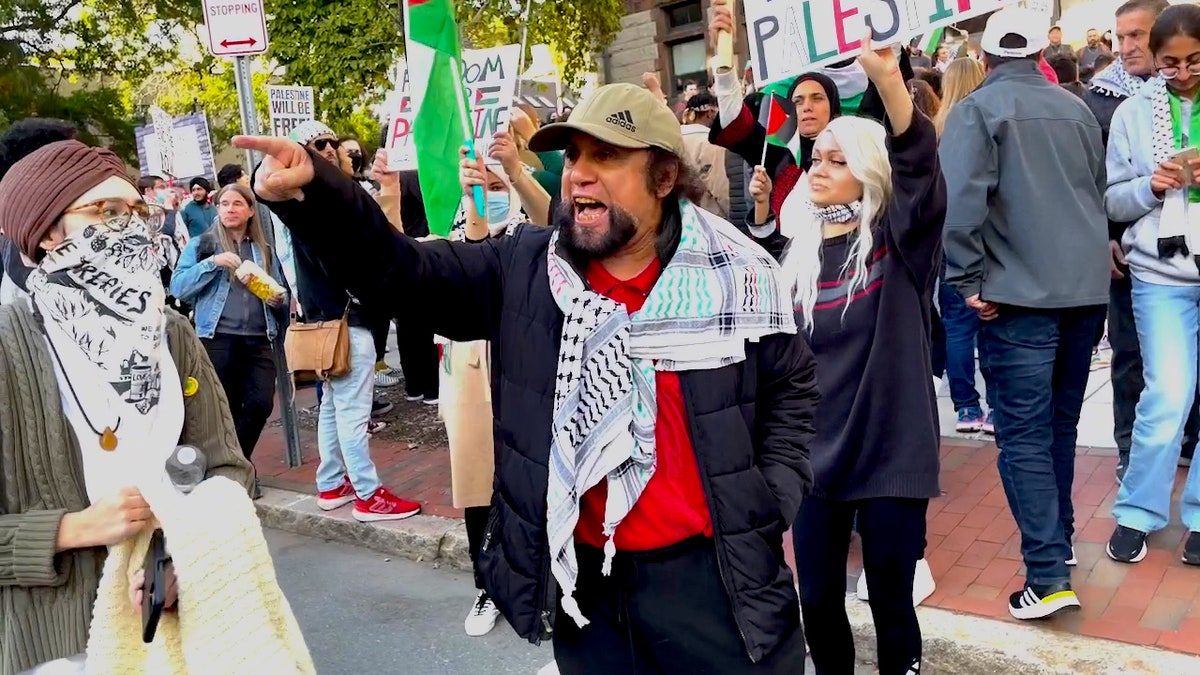 Fox News media queries to Frank Nopper's communications office were not immediately returned. The German state of Baden-Württemberg, where Stuttgart is located, has been plagued by a series of antisemitism scandals within the ministry that's tasked with fighting antisemitism.
Fox News Digital reported last year on a German bureaucrat, Michael Blume, assigned to combat antisemitism who was classified as antisemitic by the experts from the Wiesenthal Center for stoking hatred against Jews and Israel.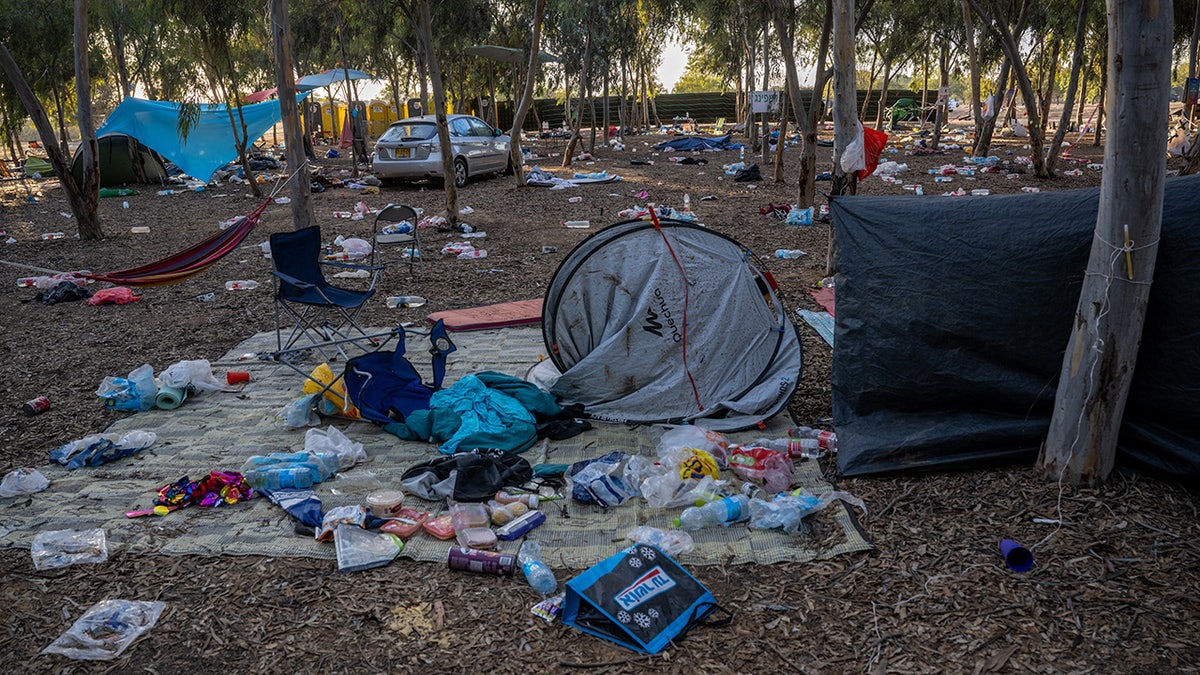 CLICK HERE TO GET THE FOX NEWS APP
The outbreaks of antisemitism, Islamism and anti-Western hatred across the United Kingdom and continental Europe prompted veteran campaigners against antisemitism to sound the alarm bells.
Daniel Schwammenthal, the director of the American Jewish Committee's Transatlantic Institute in Brussels, posted on X a video of protesters entangling themselves with police and wrote, "This is London. Similar scenes in Paris, Berlin etc. Across Europe, our underpaid police officers have now to pay for decades of political failure. The failure to acknowledge & confront Islamism, antisemitism, and anti-Western values among some of our Muslim communities."
 Reuters and the Associated Press contributed to this report.