World news
Israeli forces conduct ground raids in Gaza ahead of expected invasion
Israeli troops and tanks conducted a ground raid in northern Gaza overnight into Thursday, Israel Defense Forces said, attacking Hamas targets.
The operation was meant to "prepare the battlefield" for an expected ground operation in the Palestinian territory after two-week long airstrike campaign, a military spokesman said.
Additionally, IDF made 60 arrests in the West Bank, of which 46 where Hamas members. Since the start of the war on Oct. 7, about 1,000 wanted individuals have been arrested, IDF said.
The Israel-Hamas war, now in its 20th day, has exacted devastating casualties on both sides. In the initial attack on Israel, terrorists with the Islamic group Hamas infiltrated the Jewish state and killed at least 1,400 Israeli men, women and children in the most brutal ways imaginable, many tortured and raped first. Israeli officials say as many as 224 people were taken captive back into Gaza and are now being held hostage by Hamas. The military says 309 Israeli soldiers have been killed since the start of the war. 
ISRAEL CONDUCTS 'BRIEF' GROUND INCURSIONS IN GAZA AS NETANYAHU VOWS INVASION AGAINST HAMAS: LIVE UPDATES
At least 10 Americans are feared to be among the 224 people held captive by Hamas. 
The Health Ministry in Hamas-ruled Gaza claimed Wednesday that more than 750 people were killed over the past 24 hours, higher than the 704 killed the previous day, the Associated Press reported. The death toll reported by Hamas could not be independently verified, and the ministry does not distinguish between Palestinian civilians and terrorist combatants. By comparison, 2,251 Palestinians, mostly civilians, were killed in the entire six-week-long war in 2014, according to U.N. figures.
The Israeli military has urged Palestinian civilians to flee areas in the Gaza Strip where Hamas has placed infrastructure to fire rockets at Israel. These military targets are embedded within civilian buildings and U.S. officials have said Hamas uses the Palestinian people as human shields. 
During the overnight raid, soldiers killed fighters and destroyed militant infrastructure and anti-tank missile launching positions, the military said. It said no Israelis were wounded. There was no immediate confirmation of any Palestinian casualties.
GAZA HOSTAGE CRISIS RESPONSE SHOWS BIDEN, BLINKEN HAVEN'T LEARNED ANYTHING FROM AFGHANISTAN: GOLD STAR DAD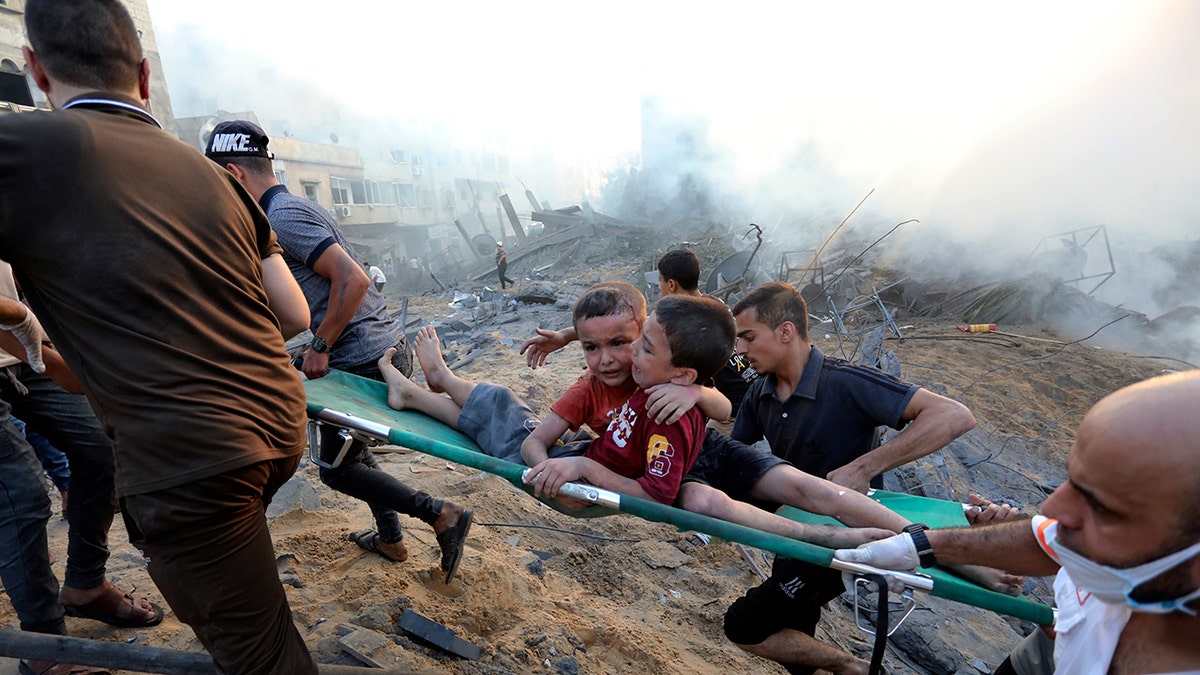 Rear Adm. Daniel Hagari, a military spokesman, said the raids were "part of our preparations for the next stages of the war." 
The military also reported it executed some 250 airstrikes across Gaza in the past 24 hours, targeting tunnel shafts, rocket launchers and other militant infrastructure.
The U.N. agency for Palestinian refugees, UNRWA, has warned that lack of fuel, food and medical aid for Palestinians caught in the crossfire will make the humanitarian crisis there worse.
The Gaza Strip is home to 2.3 million Palestinians, and about 1.4 million of them have been displaced from their homes by the war. Many are staying in crowded U.N. shelters as Israel's relentless airstrikes continue. 
MEDIA RUNNING HAMAS NARRATIVE ON GAZA HOSPITAL 'DIRECTLY CONTRIBUTED' TO ENDANGERING US EMBASSIES ABROAD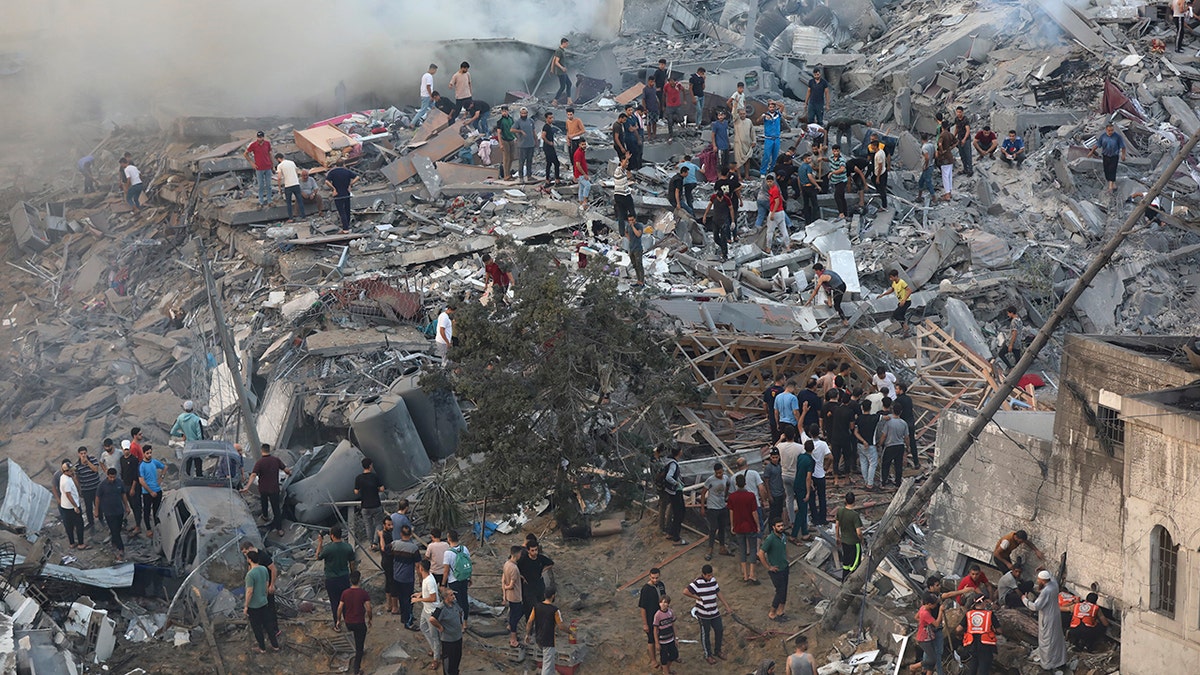 Days ago, Israel permitted more than 60 trucks to enter Gaza with humanitarian aid from Egypt, but U.N. officials and aid workers say the limited supplies is insufficient. Israel has refused to permit fuel to be delivered to Gaza, which is needed to power generators, fearing that Hamas will confiscate it and launch more rockets at Israeli residential areas. 
The rising death toll will increase if Israel begins a full-scale ground operation in Gaza. Israel Prime Minister Benjamin Netanyahu told his country Wednesday evening during a primetime address that its cabinet is "deciding" on the timing for a possible ground incursion into the Gaza Strip. 
"The goal, the timing of what the Israel Defense Forces is going to do is based on the cabinet and the chief of staff and the cabinet are deciding," Netanyahu said. "And when we get into Gaza as we go on, we will exact the highest price from these murderers for what they've done." 
Netanyahu said Israel has two goals in the war – to "destroy Hamas and all its infrastructure" and to "do everything that's possible to bring our hostages back home." 
The Israeli military remains poised for a ground invasion of Gaza at any moment, though plans for such an operation have been delayed. IDF Chief of Staff Lt.-Gen. Herzi Halevi told reporters on Tuesday that Israel is "ready to invade," but nevertheless explained the delay. 
Reports have said U.S. officials have pressured the Israelis to delay an invasion while negotiations to release hostages happen behind the scenes.
Fox News' Greg Norman and the Associated Press contributed to this report.