World news
Hundreds killed in blast at Gaza Strip hospital, Israel says Islamic Jihad 'failed rocket launch' to blame
A Hamas-run hospital treating wounded Palestinians and others seeking shelter in the Gaza Strip was hit by an airstrike Tuesday, killing hundreds of people, though Israel Defense Forces (IDF) blame the strike on the Islamic Jihad.
The Health Ministry said at least 500 people were killed at al-Ahli Baptist Hospital in Gaza City, which Hamas said was the result of an Israeli airstrike.
When asked earlier in the day, the IDF said it was investigating the source of the explosion, noting the hospital is a "highly sensitive building" and is "not an IDF target."
FORMER ISRAELI SOLDIER SUGGESTS HOSTAGE RESCUE OPERATIONS BEHIND DELAY IN GROUND INVASION OF GAZA
After an investigation, the IDF provided its findings regarding the source of the airstrike.
"An analysis of IDF operational systems indicates that a barrage of rockets was fired by terrorists in Gaza, passing in close proximity to the al-Ahli [Baptist] hospital in Gaza at the time it was hit," IDF officials said. "Intelligence from multiple sources we have in our hands indicates that Islamic Jihad is responsible for the failed rocket launch which hit the hospital in Gaza."
Shortly after the strike, a senior Hamas official told Fox, "After the barbaric attack, it's too early to talk about this."
ISRAEL-HAMAS WAR: BIDEN TO VISIT ISRAEL ON WEDNESDAY IN SHOW OF SUPPORT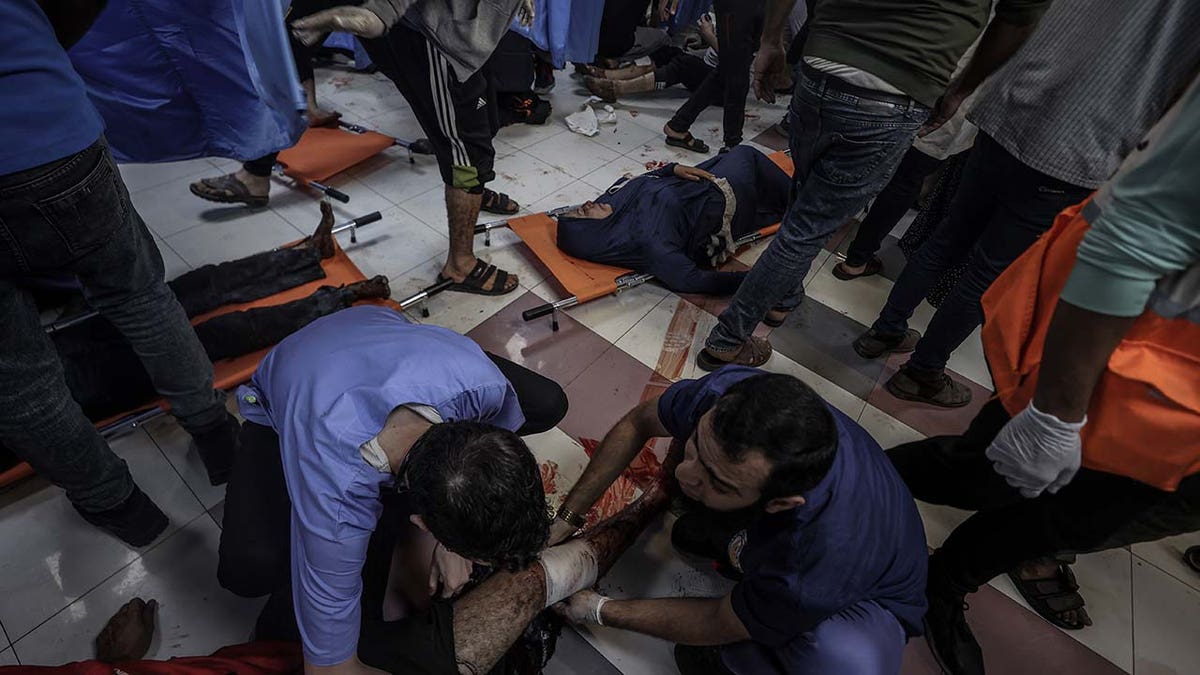 Rep. Rashida Tlaib, D-Mich., accused Israel of conducting a strike on the hospital, in a post on X, formerly known as Twitter.
"Israel just bombed the Baptist Hospital killing 500 Palestinians (doctors, children, patients) just like that," Tlaib tweeted on Tuesday. "[President Biden] this is what happens when you refuse to facilitate a ceasefire [and] help de-escalate. Your war and destruction only approach has opened my eyes and many Palestinian Americans and Muslims Americans like me. We will remember where you stood."
HAMAS CAPTURED AMERICAN MOM, DAUGHTER ON ISRAEL TRIP, RABBI SAYS
Hours after her post to social media, IDF issued its statement on X, saying the hospital was hit by a Hamas rocket from a barrage of missiles, not an Israeli missile.
CLICK HERE TO GET THE FOX NEWS APP
Hamas was targeting Tel Aviv with rocket fire Tuesday. The group has been targeting central Israel multiple times each day.
Fox News Digital's Louis Casiano contributed to this report.